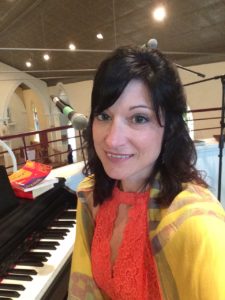 Aimee (Gelinas)Rau began her piano studies in 1981 under the watchful eye of Laurie Erb. There was not a piano at the Gelinas home so Aimee walked to her grandparents house each day to practice on their piano.  When Aimee's parents saw how much she loved to play the piano, they purchased one for their home, but Aimee still found herself going to her Grandmother's frequently to practice.
At the age of 14 she was asked by her grandfather, Mozart Gelinas Sr.,  to join the family dance band "Mozart's Melody Makers"  as a vocalist and later as a keyboardist. The band had been performing for three decades at local weddings, parties and functions and consisted of Aimee's uncles, a family friend, her father and grandfather. While Aimee enjoyed performing, the real treat was the time spent with the band practicing and learning new songs.  "I enjoyed being with my family doing what we all loved to do…make music."
As high school came to an end Aimee began teaching piano and theory lessons at Exeter Music Centre and then in her grandparent's home. She also began providing music for wedding services as a soloist/pianist and was leading her church congregation in song as well.
During her attendance at the University of Western Ontario Aimee traveled home to continue teaching her students and also volunteered at St. Boniface school in Zurich where she worked at establishing a choir. At that time she also began studying music with Anita Ruthig.  Though planning to pursue a career in speech language pathology, Aimee discovered that teaching music was where her heart was and so after completing her undergrad, Aimee began teaching full time.
In 2002 Aimee joined the MYC team and began offering the program in her home.  She was inspired by the program to write a song in celebration of MYC's 25th anniversary, a song which was adopted by Frances Balodis, MYC's founder to become the official theme song for the program. Aimee is a strong advocate for Music For Young Children. She finds the program to be comprehensive and effective. "It amazes me what my students learn in a year. It is such a joy to teach." Aimee's enthusiasm for the program shows not only in the care with which she guides her students, but also in the support she offers MYC colleagues through a mentoring program. " I love that in Music For Young Children the teachers who number over 800 from all over the world, support and encourage one another, sharing ideas and collaborating to keep the MYC program current and of the highest quality. It really is the 'university of music education' !"
In 2007,  as Sunrise revisions began to take shape Aimee submitted a collection of compositions for review. Twenty three of those compositions can be found in the new Sunrise manuals. She also wrote the MY Choice and MYC Camp theme songs. Aimee is thrilled that her music has found a home in this amazing program.  By 2008 Aimee was designated as a Cornerstone of MYC for her contributions to the program.
Noticing a need for vocal opportunities for children in the community, Aimee founded a community girls choir "The Cantabilettes" in 2009 which continues to provide local girls ages 8 – 14 choral and performance experiences. In 2014 a second choir "TriBella Voce" was established for ages 14 – 18. Both groups perform for community events and fundraisers.
In 2014 Aimee accepted the Youth Arts Immersion Music Facilitator position with the Bach Music Festival of Canada for which she worked to develop and implement a week long summer camp for youth in Huron County.  She now holds a position on the Bach Festival board of directors (now called Huron Waves Music Festival) working to bring quality music performances to the people of Huron County.
Today, teaching 130 students annually, Aimee is excited to be teaching in a commercial space known as "The Music Box".  The studio is a special place where children and adults alike can discover and nurture the joy of music making.