Music For Young Children was founded in 1980 by Canadian Frances Balodis.  Mrs. Balodis is recognized as a leading music educator in Canada and abroad. Her understanding of learning styles and developmental stages has played a leading role in the development of the  MYC curricula which is why children of differing strengths, interests and abilities can all find success with the program.  Today MYC can boast a roster of over 800 teachers from around the globe who contribute their talents and expertise to the MYC  program.
What makes the Music For Young Children program the best program for early music education?
children learn in small groups with the support of their teacher, parent and peers
group format allows for fun activities like games, special themed days, cooperative practice incentives
group format offers children regular opportunity to perform in front of a small group building self-esteem and confidence
children learn basic note-reading, keyboard geography and theoretical concepts through age appropriate, hands-on activities
proper technique is stressed through fun, upbeat activities and songs
classes included keyboard activities, listening activities, rhythm ensembles, games, singing, movement, crafts, stories and more
composition (music writing) is part of the curriculum each year as is participation in the annual international composition festival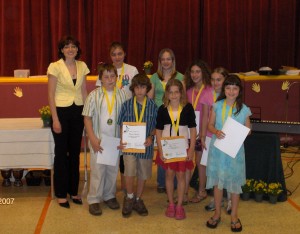 There is a Music For Young Children program for every age group from 2  1/2yrs  – adult.
Music For Young Children students perform with Bob from Sesame Street!